You can now upload, edit, or create content for Instagram & Pinterest via Canva from PLANOLY's Web Dashboard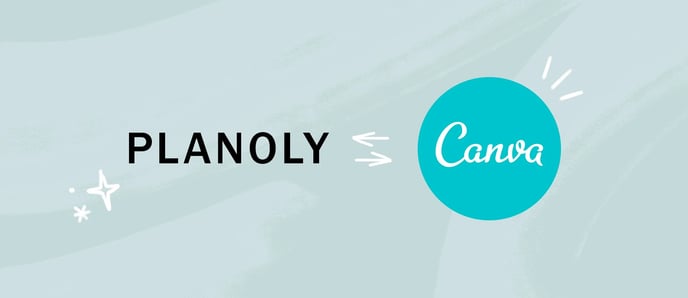 How to Access Canva in your PLANOLY account
1. Log in to your PLANOLY account on a web dashboard
2. Click New Post, New Story, or Add to Library depending on which workspace you are on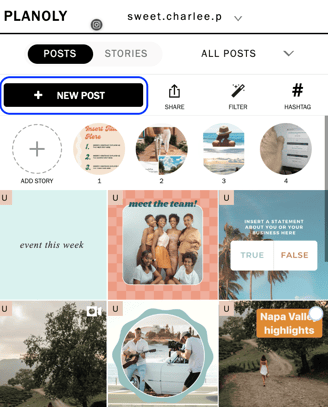 3. Select "Canva" as a source.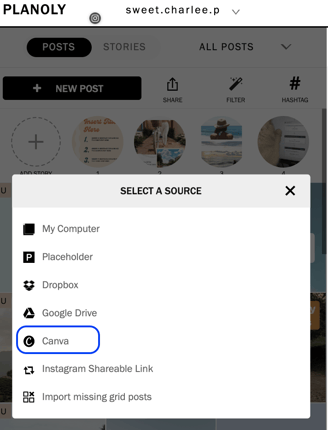 4. Login or Sign up with Canva.
5. Customize your image by uploading a photo, adding text, or utilizing a template and clicking Save to PLANOLY.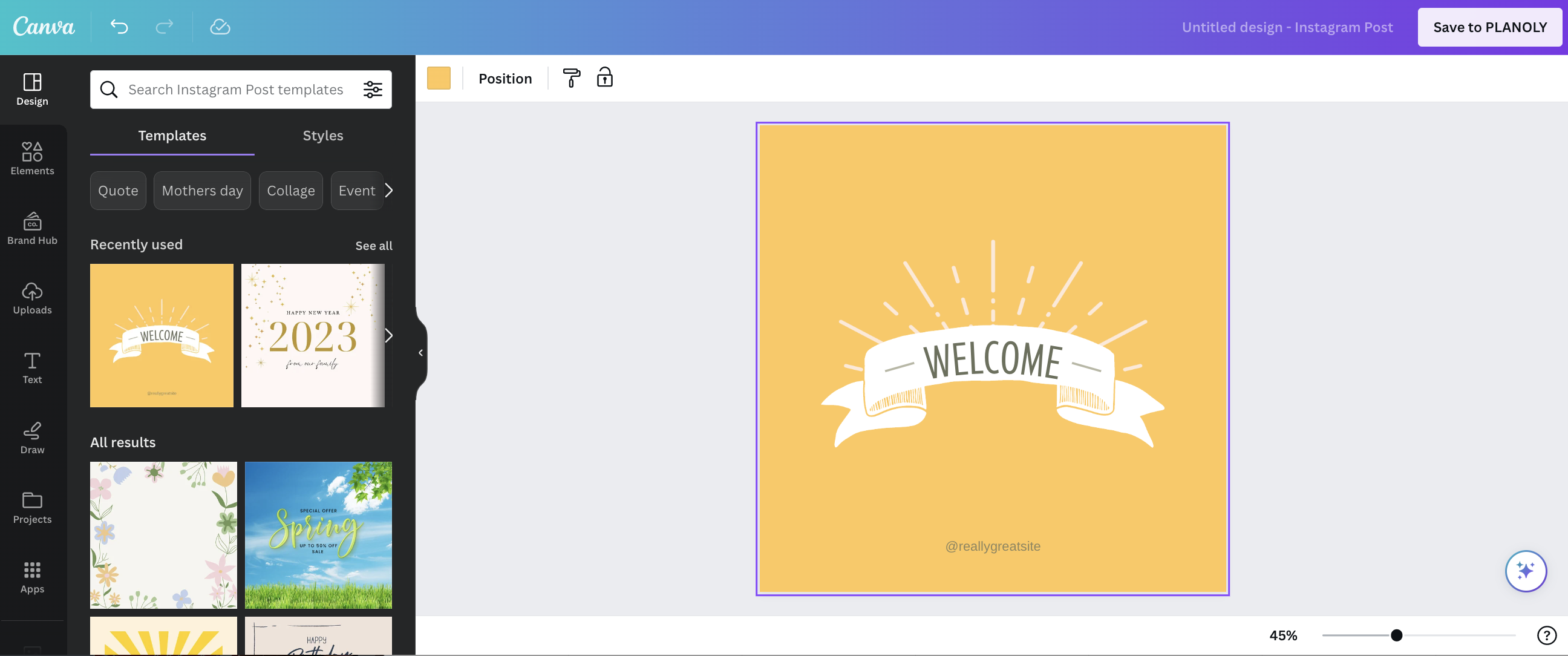 6. Select upload as carousel or upload as 1 post.
7. Your Canva image is now uploaded onto your Grid.

8. To edit your previously imported image from Canva, click on the unscheduled post and select the Canva icon.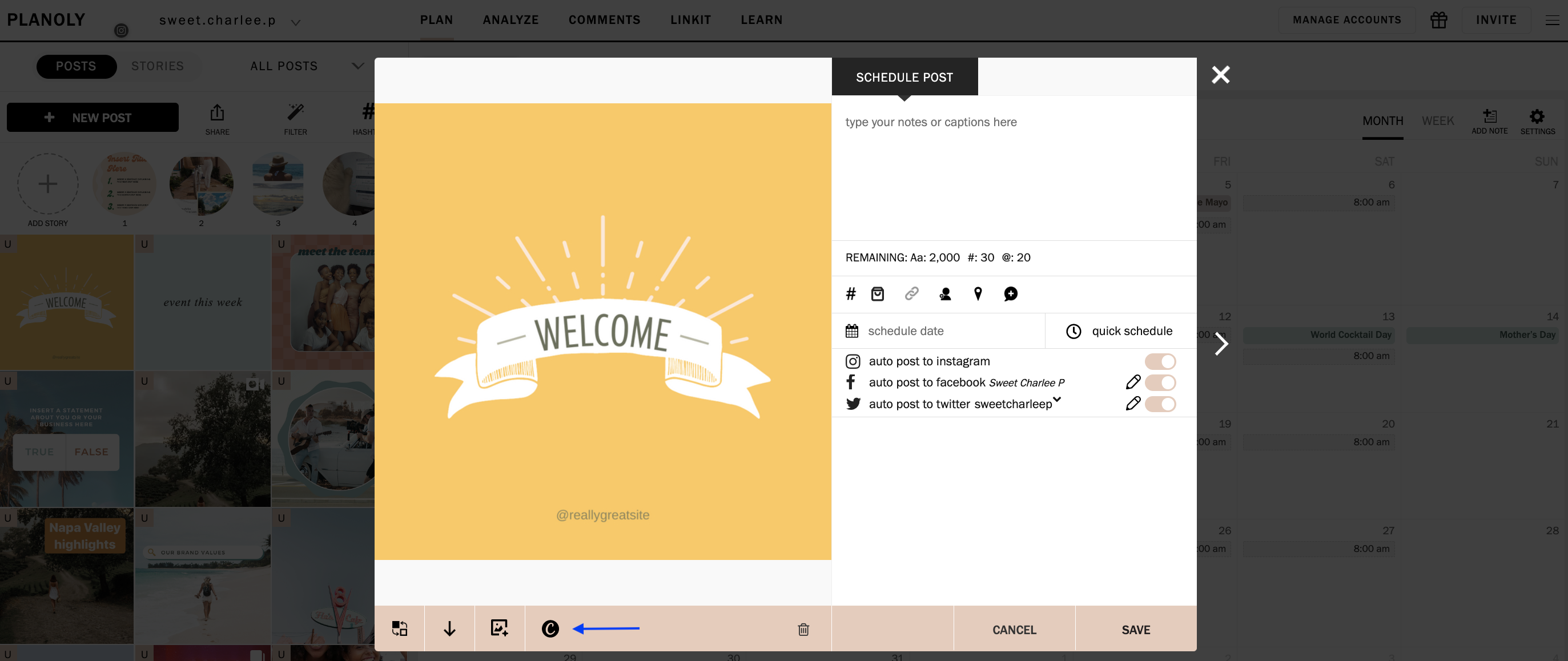 9. Update the image, template, and text, or replace and save it to PLANOLY.
10. Save.
11. Updated image has now been added to your plan grid.
Please Note: With Pinterest, once the image has been uploaded from Canva to your Pin Planner, you will not be able to go in and edit the image.
Pre-Selected Canva Sizes:
| | |
| --- | --- |
| Instagram Post | 1080 X 1080 |
| Instagram Story | 1080 X 1920 |
| Pinterest | 1000 X 1500 |
---
FAQs
1. Can I re-size the Canva template?
No, you cannot resize a blank canvas from the modal. PLANOLY will pre-select this size depending on where you start. If you select "Add to Grid" from IG Planner, the size will be 1080x1080. If you select "Add to Story" from IG Planner, the size will be 1080x1920. If you select "Add to Library" from Pin Planner", the size will be 1000x1500.
2. Can I create/edit Brand Kits in PLANOLY?
For Brand Kits, you will need to go directly to Canva to create or edit a brand kit. This branding should translate to the Canva modal on PLANOLY.
3. Can I edit my Canva designs in PLANOLY?
Yes, you have the ability to create new or import existing Canva designs without leaving PLANOLY. You can edit previously imported Canva designs in PLANOLY for your Instagram plan grid only.
4. Is Canva available on mobile?
No, currently Canva is only available to utilize on the desktop version of PLANOLY.
5. Is Canva available for carousel posts?
Yes, you can import multiple images from Canva to create a carousel post within PLANOLY.
6. How can I access my previous Canva designs to import into PLANOLY?
Click on the More tab and then open up your Folders tab to view previously uploaded designs.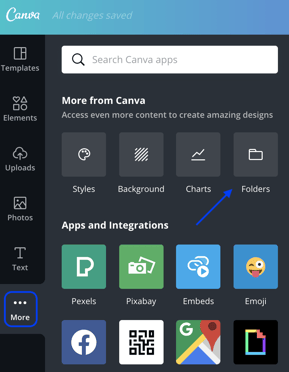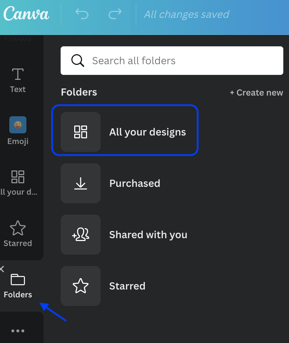 7. Can I upload my previously added videos into PLANOLY from Canva?
No, we currently do not accept video uploads. If you import a video from Canva to PLANOLY, the video will show up as an image/thumbnail.