Stress Less, Plan Better! Take advantage of our best deal ever here at PLANOLY. Receive 40% off when you upgrade to one of our annual plans or upgrade your current paid plan.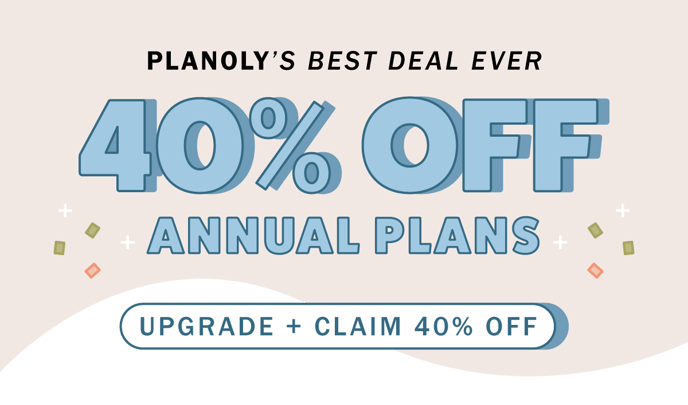 Get 40% off our annual plans and content subscriptions with code merry40. Simplify your content planning with our all-in-one social media planner. Plan, organize, and schedule static and video content for Instagram, TikTok, YouTube, Pinterest, Facebook, and Twitter with PLANOLY.
Promotional Details:
When: 11/25-12/3
Coupon Code: MERRY40
How to Redeem:
1. Log into your account on www.PLANOLY.com
Please note: Coupon codes can only be applied when purchasing a subscription through the web dashboard. Unfortunately, you will not be able to apply the coupon code on mobile with Apple or Android devices.
2. Billing
3. Upgrade/Change
4. Coupon code: merry40
We're also offering 40% off of our Content Subscriptions:
PLANOLY's Content Subscription provides users with a month's worth of content inspiration for Instagram. Every month, you'll have access to 30 new content templates. Each monthly collection includes Canva templates, captions, suggested hashtags, and Reels covers to edit and customize to match your overall branding and messaging.
Once you subscribe, you'll automatically receive that month's templates in your 'Content Templates' tab on your PLANOLY Web Dashboard. Plus, content templates are now available for iOS app users, too.
PLANOLY's Content Subscription will not only save you time creating content but give time back to work on other aspects of your content strategy like community management and video content creation.
Please don't hesitate to reach out to our support team if you have any questions regarding the promotional code: Here