Struggling with multiple tasks, creative blocks, and tailoring content for social media? Our AI Caption Writer is your new bestie, offering instant inspiration and assistance for engaging posts, no matter the challenge!

Please Note: Only Planoly paid plans and free trials have access to our AI Caption Writer in the Multi-Channel Workspace on web.
How to Use the AI Caption Writer
1. From your Multi-Channel Workspace, select New Post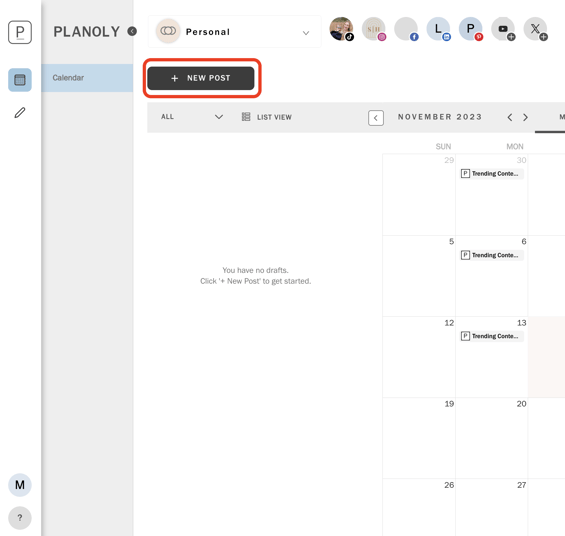 2. Choose the social channels you are planning for, upload your media, and select the AI Caption Writer button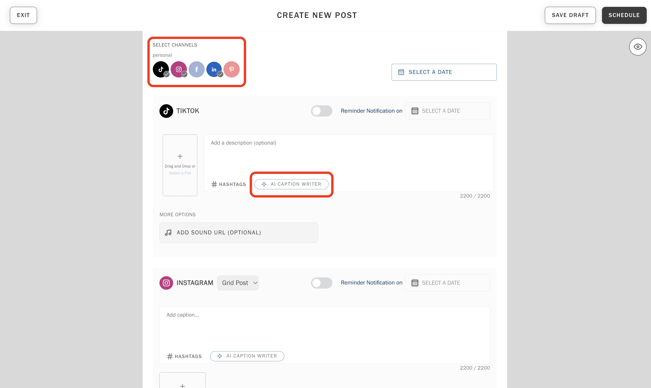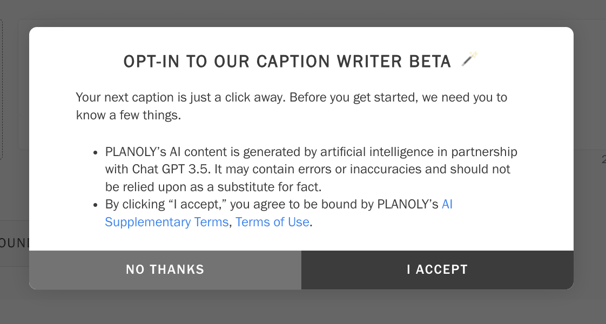 After selecting the AI Caption Writer button, you will be prompted to read and accept Planoly's AI Supplementary Terms, Terms of Use. You will only receive this prompt upon first use of the AI Caption Writer
3. When the AI Caption Writer opens, you can
Add a caption or details about your post

Share who your audience is

Choose the tone and voice of what your caption should sound like; you can even select Custom to create your own
Not sure what your caption should sound like? We are happy to introduce you to your Planoly personas:
Your Bestie: A supportive and passionate cheerleader, this voice is your in-the-know best friend who's always got your back.
The CEO of Pop: As the resident pop culture expert, this voice is your chronically online trend curator and meme maker.
Your Fave Teacher: Smart, kind, empathetic and more, this voice is everyone's favorite teacher when trying to explain big ideas to all sorts of people.
Artistic Vibes: Unapologetically authentic and inspired by the eclectic, this voice enhances your content without distracting from your aesthetic.
Corporate Slay: As a leader in your industry, this voice is polished and deeply knowledgeable, yet down-to-earth, just like you.
Quiet Luxury: Elegant and aspirational, this voice is an elevated minimalist with an understated cool factor.
Ken-Energy: A witty and confident storyteller, this voice's charisma is only matched by its infectious sense of humor.
4. After clicking the Generate Caption button, 3 captions will populate to select an option and edit the generated caption to shorten, lengthen, or rephrase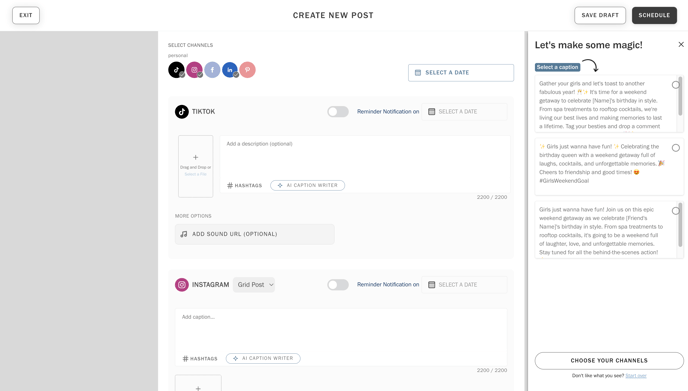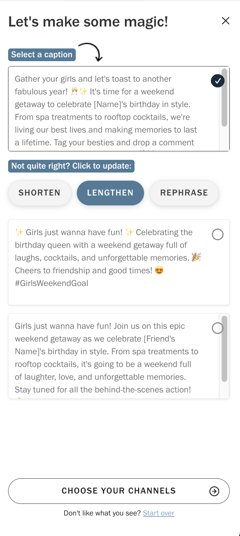 5. Next, you will select the social channels you want to add the caption to, as well as have the option to modify the caption per social channel and insert them into the posting experience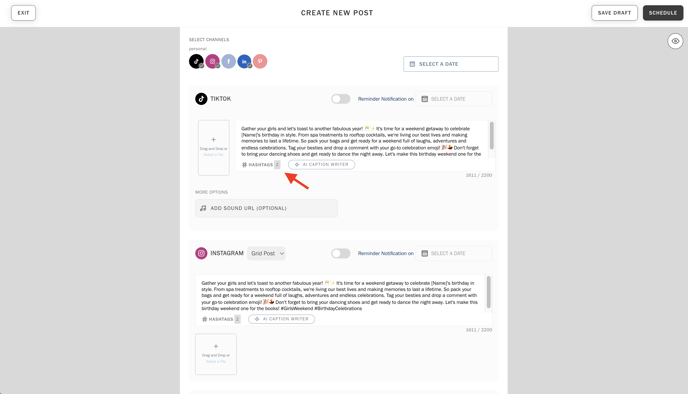 6. Your caption will now show on the chosen social channels. Click the auto-post toggle and select a date/time to schedule your post
7. Click schedule or save a draft to finish
Please Note: With your new caption you will also see new hashtags auto-generated as well.