Stories can be uploaded and scheduled on both the Planoly Web Dashboard and Mobile App (Android / iOS)
Please Note:
Up to 10 Media Items can be added to a Stories Post.
Stories can be auto-posted, posted immediately via the Post Now button or you can schedule reminders to post and be notified from the Planoly Mobile App.

Auto-posting Stories is only available for Instagram Business Accounts due to Instagram limitations. IG Creator accounts are not eligible for auto-posting Stories.

Stories auto-post is available on the Planoly web dashboard and mobile app.
How to Upload Content and Auto-Post to Stories Planner on the Web Dashboard
Log into Planoly your account on a web dashboard
Click on the Stories icon in the top left-hand corner

Tap on New Story
Select a source
Upload as 1 Story
Click into the story you just uploaded to edit by adding your caption, insert hashtags, (+) add another image, or filter the image and make sure to schedule the post
Once the story has been scheduled to auto-post, you should see the blue 'S' with the paper airplane icon

You are all set!
---
Adding Instagram Stories to Your Planoly Stories Queue
With Story Bar, you are able to see all your planned Stories at a glance – similar to the way that you see Stories on your Instagram feed. Just begin uploading your Stories to the bar at the top of your grid or tap on the StoriesEdit button to customize your own templates to upload.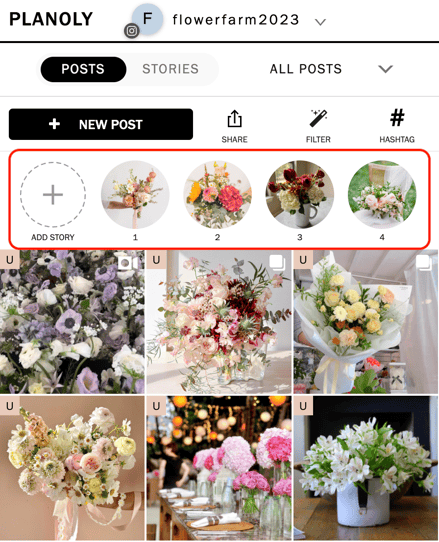 You can also add your Instagram Stories to your Stories planner to see all of them at a glance and arrange them in the order you want to post them (the first one being the one to post first, and the last one to be the one posted last).
If you have a set of Stories that you need to upload at once, you can upload a multi-story set.