You can plan and schedule carousel posts on both the mobile app and web dashboard. Additionally, you can manually post through our mobile app via push notifications or set up auto-post to all of our social channels.

How to Upload Carousel Posts
On either the web dashboard or mobile app, click on the '+' to upload your content to your grid
Select your content to upload
Choose Upload as Carousel
From your grid, open up your carousel to add your caption
Choose a time and date you want your auto-post to send out OR click on Post Now to post it right away
If you choose to schedule your post for later, make sure to click on Save
Planoly Pro Tip: When posting via Post Now or push notification, as soon as you click the link or notification, your image is removed from your grid and placed in your History (found in the menu on the mobile app). Once you post it, Instagram then sends the image back to your Planoly grid as a posted image.
How to Merge Single Posts into a Carousel from the Web Dashboard
Go to your Plan Dashboard on the Planoly Web Dashboard
Select the single post images that you would like to Merge

into a Carousel Post and click

Merge
Click Merge > Merge & Save

The single-image posts have now been merged into a Carousel Post
You can schedule your carousel for auto-post or post it right away
If a caption is present on any posts, they will be combined as well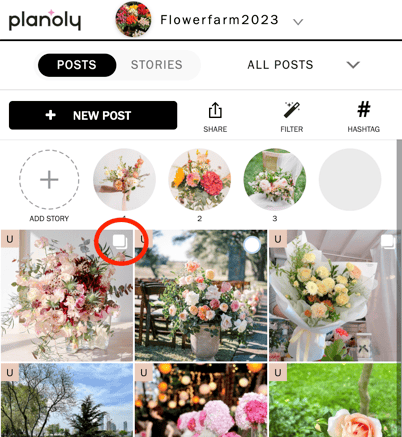 Please Note: Once you merge content, this action cannot be undone. You can only merge grid posts into other grid posts. You cannot merge Stories posts into other Stories posts.
---
How to Schedule and Manually Post your Carousel Post from Planoly to Instagram via Push Notifications
Open an unscheduled carousel post from your plan grid
Click into the date and time section and choose a date and time you wish to schedule the post, then click Save

On the plan grid, you will see a blue 'S' on the post you scheduled which indicates that this post is set to be manually posted via Planoly's push notifications through our mobile app


To ensure your push notifications are enabled, tap on the profile icon in the bottom right-hand corner of the Planoly mobile app


Select Settings

Scroll down until you see Notifications
Toggle on ALL options and then click Save

You should be all set!
Planoly Pro Tip: You can also utilize the 'Post Now' feature on your mobile device if you wish to post immediately. A friendly reminder, the 'Post Now' feature is not currently available on the web dashboard.
---
Carousel Post Guidelines
Carousel Posts are
eligible for auto-posting via our mobile app and web dashboard.
Users can customize their carousel captions for Instagram, Facebook, and X (formerly Twitter) and add a first comment (only available on the web) to their Instagram carousel post on the web. Below are some of Instagram's limitations or you can read more about
Instagram Guidelines and Limitations.
Up to 10 media items can be added to a carousel post
Videos are not supported at this time
Size Limit: 8MB Maximum
Image Types: BMP, JPEG, PNG
Ratio Specs: Within a 4:5 to 1.91:1 aspect ratio range
All images are required to be the same size as the first image on the carousel
Limitations: Cannot post videos, tag users or locations at the moment
Planoly Pro Tip: Instagram does not support tagging users or locations on Carousel posts outside of Instagram. If you wish to have users and a location tag on your post, this will need to be added once it's published and lives on Instagram.
---
Can I auto-post my Stories to Instagram?
Yes! As an official Instagram partner, we are able to auto-post IG Stories to IG from Planoly. Users can auto-post single images and videos - carousels are not eligible for auto-posting Stories. Eligibility requires you to have an Instagram Business account on a paid plan.
Am I allowed to auto-post Carousels to Instagram?
Yes, we have the ability to auto-post carousels to Instagram, Facebook, and X (formerly Twitter) on our mobile app and web dashboard! Auto-post is only available on Instagram at this time for posts with up to 10 images and only 4 images for X (formerly Twitter).