Carousel Posts are now eligible for auto-posting via our mobile app and web dashboard for Instagram, Facebook, and Twitter. Below are some limitations or you can read more about Instagram Guidelines and Limitations.

Up to 10 Media Items can be added to a Carousel Post
Videos not supported at this time
Size Limit: 8MB Maximum
Image Types: BMP, JPEG, PNG
Ratio Specs: Within a 4:5 to 1.91:1 aspect ratio range.
All images require to be the same size as the first image on the carousel.
Share to FB and Twitter (Via web dashboard) but no customization/edit capability. Can only share Carousels with up to 4 images to Twitter due to limitations of the platform.
Limitations: Cannot post videos, tag users & location at the moment
PLANOLY Pro Tip: Instagram does not support tagging users or locations on Carousel posts outside of Instagram. If you wish to have users and a location-tagged on your post, this will need to be added once it's published and live on Instagram.
How to Create, Schedule, and Manually Post your Carousel Post from PLANOLY to Instagram via Push Notifications
1. Select the date '+' time and click Save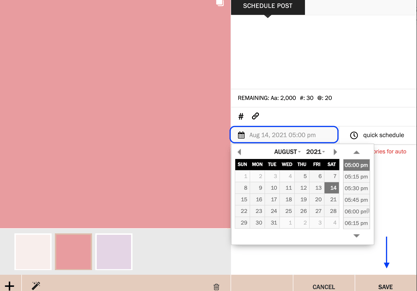 2. The blue '
S
' here indicates that this post is set to be manually posted via
PLANOLY's
push notification through our mobile app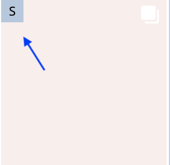 3. To turn on your push notifications, tap on the profile icon in the bottom right-hand corner

4. Select Settings
5. Scroll down until you see Notifications
6. Toggle on ALL options and then click Save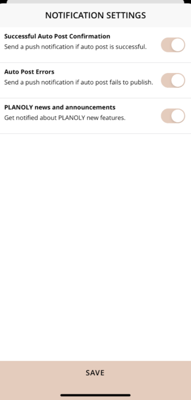 PLANOLY Pro Tip: You can also utilize the 'Post Now' feature on your mobile device if you wish to post immediately. A friendly reminder, the 'Post Now' feature is not currently available on the web dashboard.
Why are my Stories not auto-posting to Instagram?
Although PLANOLY is an official Instagram partner, the company still sets certain limitations on what the platform can or cannot do. Among those current limitations are auto-posting Stories posts. Unfortunately, we have no control over this issue at the time. But if and when Instagram lifts those restrictions, we'll be the first to offer that feature! For now, you can auto-post single images and videos, tag users/locations, and first comments.
Am I allowed to auto-post Carousels to Instagram?
Yes, we now have the ability to auto-post carousels to Instagram, Facebook, and Twitter
on our mobile app and web dashboard!
Auto-post is only available on Instagram at this time for posts with up to 10 images and only 4 images for Twitter.