Step 3: Is PLANOLY listed as Active under Business Integrations on Facebook with all of the toggles turned on to grant PLANOLY proper permissions?
Once your Instagram Business account and Facebook Business Page settings are properly connected, let's check your Facebook Business Page Integration Settings to enable or re-set your connection between PLANOLY and Instagram in order to activate auto-post:
To check your Business Integration settings, go ahead and follow these steps:
1. Log into
Facebook
on a computer web browser
2. Select Settings & Privacy
3. Settings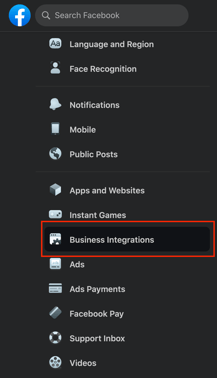 4. Select PLANOLY
5. Tap on View and Edit

5. Ensure ALL Toggles are turned on to grant PLANOLY proper permissions.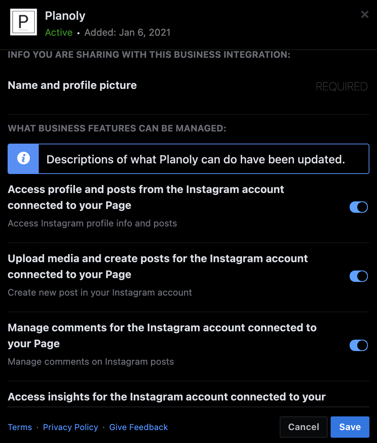 ​PLANOLY Pro-Tip: All permissions must be granted to PLANOLY in order to successfully auto-post. If one or any of the toggles are not toggled on then you will not be able to successfully activate auto-posting.
6. Now, you can try refreshing your PLANOLY web dashboard or mobile app and attempt to authenticate to unlock Auto-Post again!
Note: If you're still experiencing issues, click here to Step 4 (last step!) to learn how to revoke and re-enable your PLANOLY permissions on your Instagram and Facebook settings in order to unlock Auto-Post.
Additional Help: Want to learn more about authenticating your Instagram and Facebook accounts and get started auto-posting? Check out the helpful articles below!
How to set up Auto-post:
Auto-post Troubleshooting:
How To Check Instagram Profile Type